Chelsea Dentist
Dental Bridge
Top quality bridges in Chelsea, London with expert dentists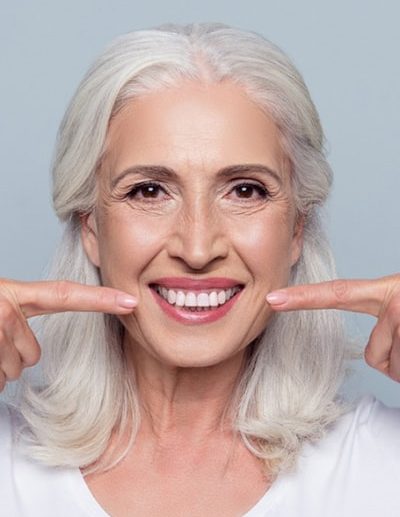 Teeth replacement has come a long way and now it has become very convenient to restore your missing, lost and decayed teeth with help of effective means that help you eat, smile and look good.
Dental bridges have become a great way to replace one or multiple missing teeth with just a little procedure and accurate impressions.
Change the way your teeth look in just ONE appointment!
Not only the bridge holds the other teeth in place but it also helps to preserve them as one or more lost teeth can cause the other teeth to shift or loose which can become a big problem. If you are also suffering from missing or lost tooth and the gapped teeth are becoming a problem for you, contact Dr. Shenas as he has the best dental solutions for you.
What is a dental bridge?
A bridge is a way to replace one tooth or multiple teeth with artificial teeth as it bridges the gap where one or more teeth used to be. It can be made of gold, alloy or porcelain or a combination of these materials and fixed on to the surrounding teeth for better support.
Missing teeth not only affect your smile and facial structure but also have an impact on your speech patterns and bite alignment. A dental bridge not only offers tooth replacement but also saves the neighboring teeth from stress and supports your jawbone structure, giving you a youthful look.
The two teeth on either side of the gapped or missing tooth act as the anchor for the bridge. A fake tooth is attached to the middle of the bridge and fills the space where the empty tooth cavity is. The dentist will prepare the adjacent teeth in order to adjust the bridge and support it properly by filing them.
The bridges can vary depending on the number of missing teeth and where they are located. A dental bridge is the best solution if the neighboring teeth have large fillings and need caps in future as you can get natural looking caps that restore oral functions and enable you to smile beautifully and feel confident.
What makes dental bridges the right choice?
They restore your smile
They help to maintain the shape of your mouth and face
They help you bite, chew and speak properly
They prevent the remaining teeth from changing position
Bridges are restorative dental techniques that help you get rid of lost and missing teeth in the most effective manner and enjoy a strong and attractive smile for years.
Traditional fixed bridge
A dental bridge is a false tooth, known as pontic that is fused between two porcelain crowns to fill in the gap left by a missing tooth. There are two crowns to hold it in place that are anchored on to the neighboring tooth on each side of the false tooth, known as a fixed bridge. This is the most effective means to replace one or more missing teeth, restoring any missing or lost teeth most naturally. It is important to know that fixed bridges are bonded and cannot be take off like removable partial dentures.
Resin bonded bridges
This type of bridge is  mainly used for restoring front teeth as it is less expensive and works best when the abutment teeth are in good condition and do not have large fillings. Resin bonded bridge does not require preparing adjacent teeth as false tooth is fused to metal bands that are bonded to the abutment teeth with a resin that remains hidden from view.
Maryland Bridge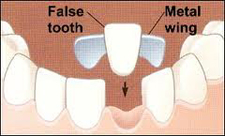 This type of bridge is mostly used in areas of mouth that are under less duress such as front teeth or when the teeth are only on side of the open space. It is all about anchoring false tooth to one side over one or more natural and adjacent teeth.
The Maryland bridge is becoming very popular these days as it requires very few adjustments to the adjacent teeth for bridge placement. Made up of a special resin that is cemented on the enamel of the teeth and metal framework, the structure of the bridge helps to improve its strength which makes it up to three times stronger than other bridges. The good thing about this type of bridge is that it does not require exposing the inner part of the tooth, the dentin that minimizes the risk of patients suffering extreme sensitivity during the procedure.  This process does not need any alteration or changes to the neighboring teeth and is entirely reversible.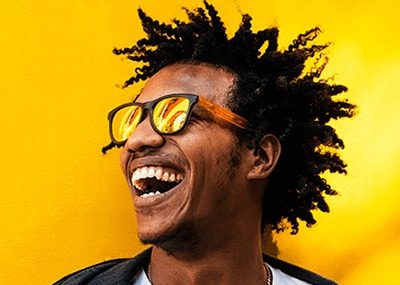 Dental bridges are the best way to replace a missing, damaged or decayed tooth or teeth without affecting your overall personality. At Dr. Shenas Dental Clinic, we combine the most advanced technology with dental expertise to provide top quality dental care and efficient service.
Dr Shenas Dental Clinic
51 Cadogan Gardens
Sloane Square
London SW3 2TH
020 7589 2319
Book your Appointment
If you book your appointment online during working hours, we will contact you within two hours to confirm the date and time your visit.
Start Your Smile Journey Today!
Our skilled, experienced and friendly practitioners, and access to the best dental technologies is a great combination for creating your brand new smile.